Tuesday, 15 July 2014
Great demo and rally in central London last week on 10th July. Get a flavour of the mood from '
Fourman films
'.
Tuesday, 1 July 2014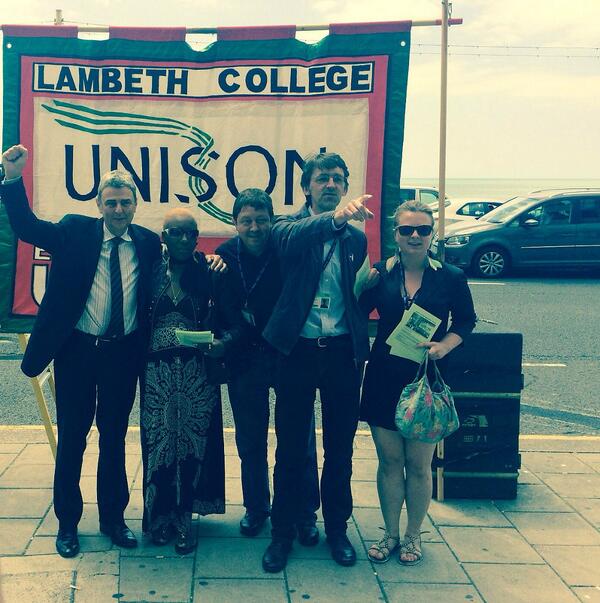 The inspirational indefinite strike action at Lambeth college by UCU members is getting good coverage by their brothers and sisters up and down the country.
Messages of support for the '
We support Lambeth UCU
' website are a great way of showing solidarity from afar and has attracted good publicity.
An outside observer might be forgiven, though, for overlooking the UNISON members who are also engaged in ongoing strike action alongside the lecturers in a south London FE college..
The support staff also need our support. And they deserve the national union to throw our full weight behind this important strike.
UNISON strike pay is just £15 a day, (compared to UCU's £50).
So our members really need your financial help. They raised £1,700 from members digging deep at National Delegates Conference alone - support from Dave Prentis & NEC, photographed here at the time, helped a great deal.
Can you do a collection and send a donation from your location branch funds?
To send a solidarity donation to Lambeth College UNISON please send cheques for 'Lambeth UNISON' to 6a Acre Lane, London, SW2 5SG.
LOUISE RAW explains the background to a major clash between bosses and union activists at London Metropolitan University
READERS may recall articles passim about the diverting antics of management at my old University, London Metropolitan (LMU).
Those who do will want me to narrow that down considerably — daftness by LMU is not so much a crowded field as a tightly pack
ed few hundred acres. Think Glastonbury, but with a lot more mud being thrown.
Last year, vice-chancellor Malcolm Gillies made threats to derecognise Unison at the university and subsequently suspended two staff members, one of whom was Unison NEC member Max Watson.
The suspensions were later lifted, but Watson took the university to a tribunal for detriment relating to his union activity. The tribunal's pro-management decision is set to be challenged imminently.
To recap, both Watson and fellow 2013 suspendee, staff governor Jawad Botmeh, work for the internationally recognised Working Lives Research Institute (WLRI), which works closely with the trade union movement.
Watson had campaigned against LMU's decision to close its purpose-built Women's Library and disperse its priceless and unique archival collection.
He had also vigorously fought LMU's various attempts to privatise, and opposed its use of notorious outsourcing firm Capita.
Just before Watson's suspension, vice-chancellor Gilles attacked him personally in an open, all-staff email for advising members that they did not need to co-operate with Capita — this was union policy.
Newly elected staff governor and WLRI employee Jawad Botmeh was also suspended and then WLRI's head, Professor Steve Jefferys.
All three were accused of misconduct around Botmeh's employment.
Botmeh had declared a past criminal conviction when applying for work at WRLI.
Watson, overseeing interviews, consulted on this with Jefferys and checked university policy.
Finding the conviction made no difference to the application, they proceeded accordingly and hired the well-qualified Botmeh.
Botmeh was appointed to a permanent post in 2010, again declaring his criminal record in the process.
In 2013, after Botmeh's election to the board of governors, his appointment suddenly became an issue — though the university was unable to suggest any rules or procedures had been broken — and the men were suspended.
At campaign meetings during the suspensions, University and College Union officials warned of a deeper agenda at work: "The heart is being ripped out of our universities and public services … trade unions are at the forefront of combating this social vandalism."
A message of support from the PCS NEC added: "Witch-hunts don't identify trouble-makers; they identify the heroes of our movement."
The university investigated and lifted the suspensions in March last year.
Not surprisingly, the men were left feeling bruised, as were other WLRI staff who had been subjected to hours of questioning and threats of suspension themselves.
Watson decided to take action for detriment and in the process gained access to emails about him and the union through a freedom of information request.
The contents revealed are astounding.
They show a senior management not only utterly opposed to legitimate union activities, but with no acceptance, or even understanding, of a union's role and duties.
Watson is treated not as a representative of staff but a personal enemy, and the overall attitude displayed is more reminiscent of a slightly dotty retired colonel spluttering over the port at his club than professional industrial relations practitioners.
Legitimate union activities are referred to as "Max and his cronies trying to cause mischief." Unison emails are attacked as "ranting in true SWP style."
Deputy chief executive Paul Bowler congratulates Gillies for having the "unions on the back foot, well done."
Meanwhile university secretary Alison Wells slapped the cherry on the cake by opining that was "no plague virulent enough" for Watson.
All of this is quoted in the judgement of the tribunal which heard Watson's case.
The report does not make for edifying reading.
The tribunal found that Watson had been wrongly accused of dishonesty and that the university had "moved the goalposts" in its attempt to make charges stick.
This, it felt, supported Watson's case for detriment, "even quite strongly."
In fact, Watson had made a prima facie — open and shut, to you and me — case in some aspects.
But the tribunal still dismissed it, and justified this by revealing that it had found deputy vice-chancellor Peter McCaffery "honest and credible." He had even admitted that a lot of mistakes had been made.
This did not take in evidence from HR director Lyn Link, ultimately responsible for the suspensions.
Link is a bit of a legend in these parts for classic quotes including telling Watson he was intimidating her merely by looking at her when she was speaking to him.
She is now on a career break. Both Alison Wells and Malcolm Gillies are also leaving LMU next month.
The tribunal did acknowledge management's "inappropriate attitudes" to Watson as a union rep.
And that delightful "plague" comment? Just "banter."
Unions have long expressed concerns about employment tribunals, and denounced as "disgraceful" the decision to introduce a hefty fee for their services, which has seen applications cut in half.
After a long 18 months of insults and attacks for working hard to represent his members, harsh treatment and a month suspended from his job, it's no surprise that Watson is set to appeal. Who could blame him if he also wants his money back.
Louise Raw is the director of the "Pro-union, pro-women, pro-fun" Matchwomen's Festival on Saturday July 5. Tickets are just £2 from www.matchfest.co.uk. She is also the author of Striking a Light about the Bryant & May matchwomen's strike.
http://www.morningstaronline.co.uk/a-50d0-Trouble-at-the-Met